Alkeme Wholefoods
Regular price
Sale price
$59.95
Unit price
per
Sale
Sold out
NEW!

Our plant based protein is as good for you as it is for the planet, but still tastes so good - you will actually want to have it every day (it's perfect at 3pm for that sweet Chocolate hit).
Pea & Rice protein to help repair and build muscle with nutrients such as Iron, B Vitamins and Antioxidants to help you be your best you. 
Maca & Mesquite are added for hormonal health balance, energy and extra nutrients (Potassium, Zinc, Manganese and Lysine). With added Cacao full of Flavanoids to assist with digestive health and Magnesium for overall health, stress management and muscle repair. 
'It contains adequate protein per serve with great bioavailability making it great for post workout recovery shake or a quality protein snack while still being low carb and low sugar.  I would absolutely recommend this product to my clients looking for a plant based protein powder that didn't contain any unnecessary additives or nasties.'
NUTRITIONIST APPROVED
Directions: 
Add 2 scoops (approx 40g) into water or your alternative milk of choice (we love this with almond milk).
Shake well and enjoy.
Add to your morning smoothie, smoothie bowl or any 'alkeme treats for that extra boost. 
Feel strong and healthy with our delicious & good for you Plant Protein. 
Ingredients:
Rice Protein, Pea Protein, Coconut Milk Powder, Cacao, Maca, Mesquite, Natural Organic Caramel Flavour, Monk Fruit & Stevia Sweetener. 
Share
View full details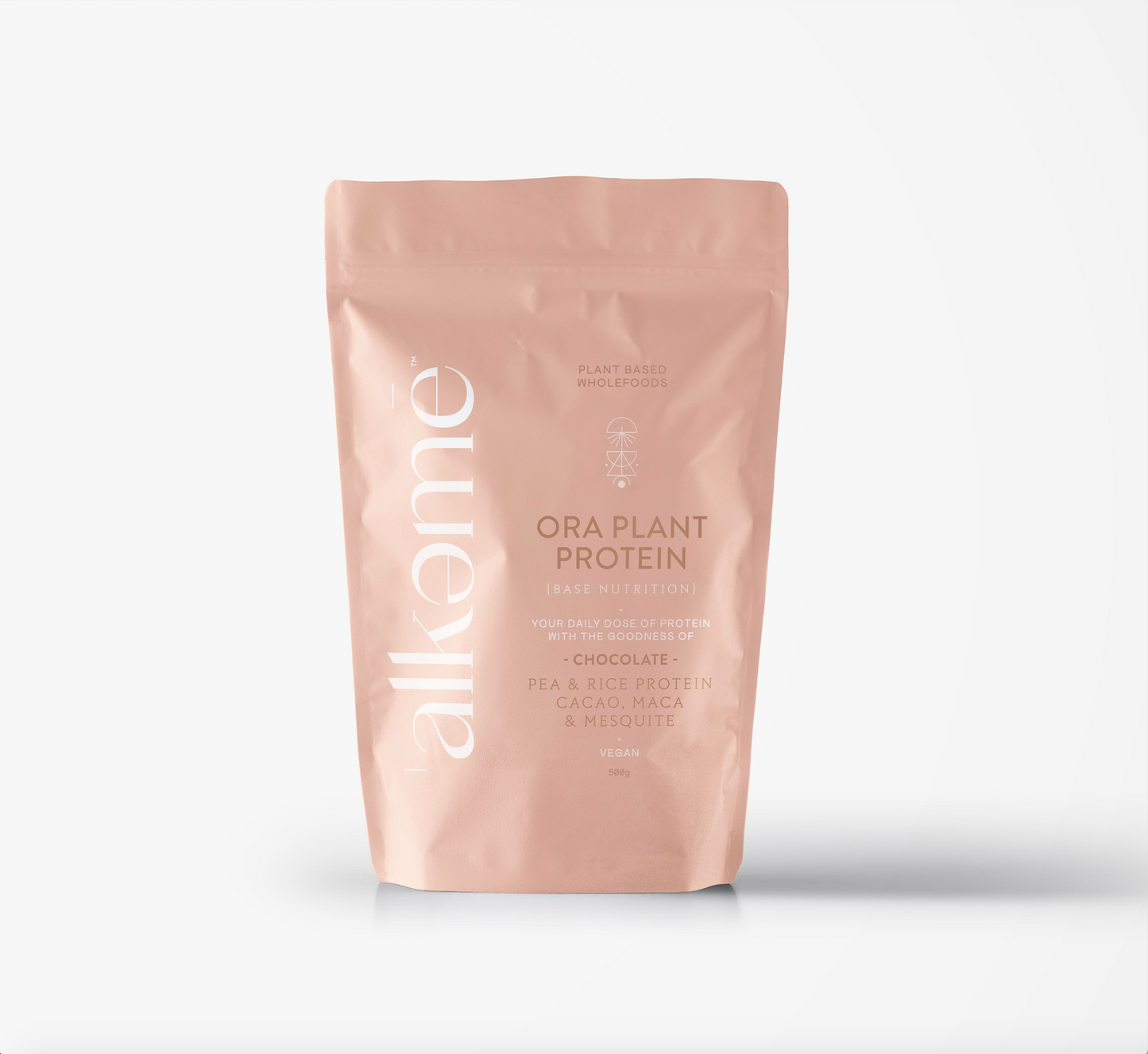 happy 13 year old
My son loves this protein powder and now has this every morning for breakfast! He had tried others and hated them so we are super happy, thanks!
Yummy
I love this with chocolate oat milk, it's very tasty! I love how it doesnt have a bad after taste like a lot of plant based proteins I've tried. Definitely getting again :)
This is the best and so yum you will actually drink it! Thank you for the review!
Better than any protein powder we have tried
Unlike other plant proteins that we have tried, the initial taste isn't amazing but it is so much better. The texture is dry instead of gritty and doesn't leave a layer in the mouth. The aftertaste is what makes this special as it is delicious and coco-y, 5/5. Also really yummy with some extra sugar or maple syrup
Hi gorgeous! Thank you so much for your feedback! It took us some time to develop a drinkable protein! You could try layering with the new Calm & Be for the afternoon 3pm - tastes like a Caramel Latte - but all natural!
Why you need me in your life...
Highlights

Gluten Free

Refined Sugar Free

Dairy Free
Vegan or not?

You can make me 100% Vegan, or if you are working towards Plant Based but not there yet fully you can use dairy milk (obvs then I'm not dairy free), or eggs instead of flax eggs.
Time

10 minutes to preapre, 50 minutes to cook.
Ingredients

Rice Flour, Tapioca Flour, Coconut Sugar, Baking Powder, Baking Soda, Himalayan Salt.
''Tasty treats!
These are incredibly yummy! When I run out I will be quick to order more, so delicious and easy to make! They are perfect.'
TIP - Make me into Banana Muffins just by using a muffin tray. Add Blueberries, Walnuts or Choc Chips!
Loved by the little ones!
We used mini muffin trays and spent the morning together mixing, baking, and hten of course eating the yum treats!
Shop now