Alkeme Wholefoods
Regular price
Sale price
$14.95
Unit price
per
Sale
Sold out
Chocolate Brownie but made better with beetroot (trust us you can't taste it!). A superfood we think is sooo underrated...
BEETROOT; 
Packed with essential nutrients, beetroots are a great source of fiber, folate (vitamin B9), manganese, potassium, iron, and vitamin C. Beetroots and beetroot juice have been associated with numerous health benefits, including improved blood flow, lower blood pressure, and increased exercise performance.
INGREDIENTS:
Rice Flour, Tapioca Flour, Cacao, Coconut sugar, Soloman's Choc Chips, Flax Seed, Baking Powder, Beetroot Powder, Maca, Baking Soda, Himalayan Salt.
YOU WILL NEED:
100g Coconut Oil, 1/2 cup luke Warm Water, 1/4 cup Almond Milk. 
DIRECTIONS:
Pre heat the oven to 180 degrees on bake.
Line a bake tray with non stick baking paper.
Pour the dry ingredients into a bowl.
Mix the wet ingredients in a seperate bowl (note: the Coconut Oil needs to be melted and Luke warm), add in the milk, and the Luke warm water. Mix well. 
Mix the wet mix into the dry mix. Pour into your lined tray.
*top with walnuts or any nuts.
Put in the oven and set your timer for 15 minutes (tip: don't open the oven consistently as this will cause the Brownie to fall and flatten). Check with a fork in the middle. It may need 20 minutes. 
Cool in the pan for 5 minutes then tip onto a cooling rack and wait 20-30 minutes before slicing. *Tip: drizzle dark chocolate over the top for that little bit #extra.
Store in an airtight container as you enjoy over the week. 
Note - add walnuts through the mix if you're after a little crunch. 
Makes 12 - 15, depending on your slice size ;)
- Your body is your temple, your soul's home. 
ALLERGENS:
These products are made with love in a facility that handles peanuts and other tree nuts. Whilst extreme care is taken, date fragments/pitts or natural matter may be present. 
Store in a cool dry place.
Made with love in New Zealand with local and imported ingredients. 
Share
View full details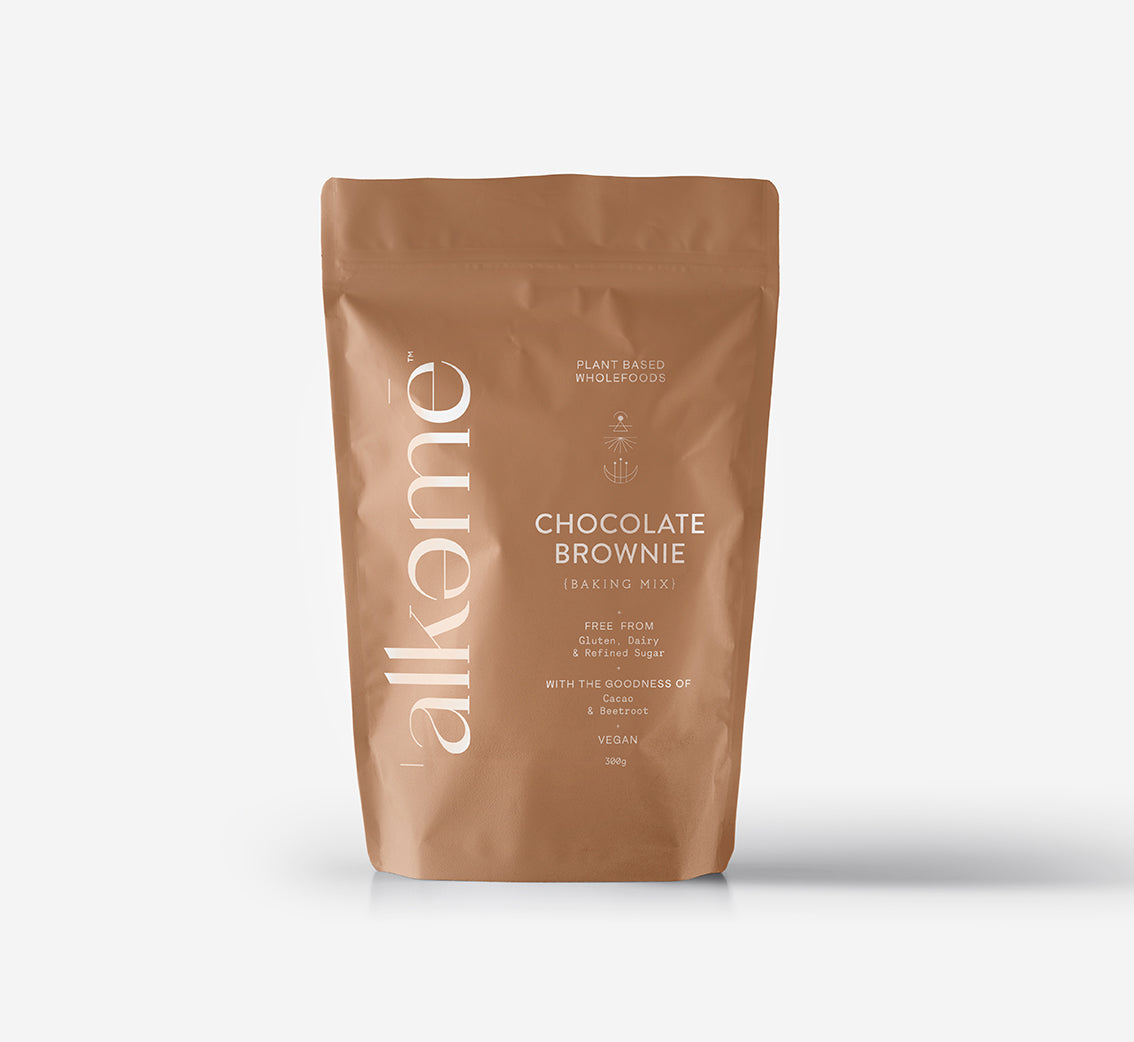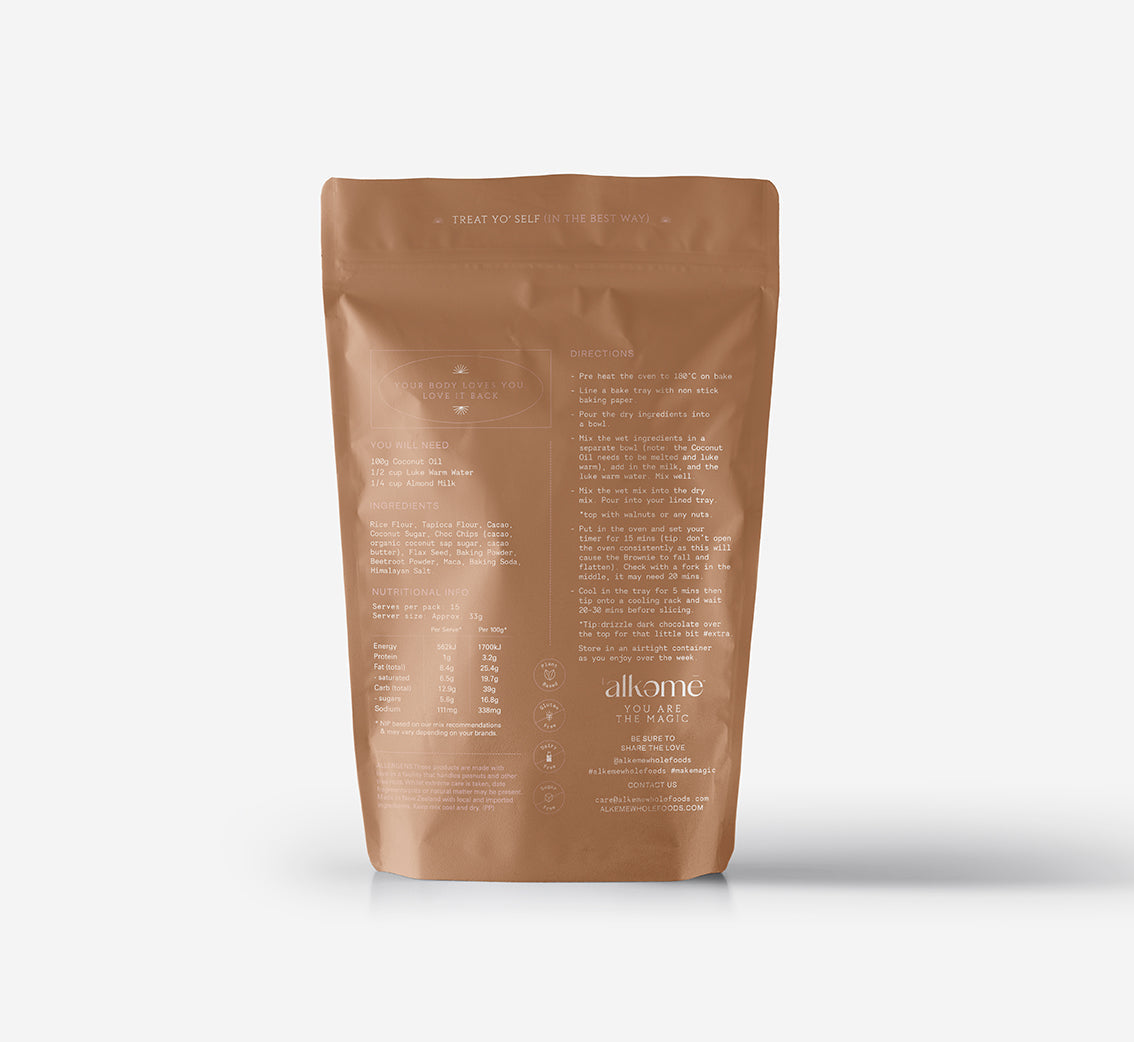 Fantastic
Delicious brownie and quick to whip up. Had it made, baked and out of the oven all in 30 minutes!
So great! Love quick and easy treats, healthy should be easy!
Chocolate brownies
Taste was a very dark chocolate flavour..i loved it....
Very soft and easy to prepare
YES! We love this! And made from Cacao, which is the purest form of Chocolate that hasn't been processed so it's full of magnesium and other goodness :)
Love the Choc Brownie
Absolutely love it the taste is just how I like the brownie to be not too sweet.
Just a great afternoon treat for me.
Taste good but super crumbly
I've made this one a couple of times now and find it more of a cake rather than a brownie consistency. It's quite crumbly so can be messy to eat (falls apart) but it taste really good.
Why you need me in your life...
Highlights

Gluten Free

Refined Sugar Free

Dairy Free
Vegan or not?

You can make me 100% Vegan, or if you are working towards Plant Based but not there yet fully you can use dairy milk (obvs then I'm not dairy free), or eggs instead of flax eggs.
Time

10 minutes to preapre, 50 minutes to cook.
Ingredients

Rice Flour, Tapioca Flour, Coconut Sugar, Baking Powder, Baking Soda, Himalayan Salt.
''Tasty treats!
These are incredibly yummy! When I run out I will be quick to order more, so delicious and easy to make! They are perfect.'
TIP - Make me into Banana Muffins just by using a muffin tray. Add Blueberries, Walnuts or Choc Chips!
Loved by the little ones!
We used mini muffin trays and spent the morning together mixing, baking, and hten of course eating the yum treats!
Shop now